Welcome
We welcome you to Sligo Cathedral Group of
St. John's Cathedral, John Street, Sligo Town,
Rosses Point Church and St. Anne's Church, Knocknarea, Strandhill, Co. Sligo.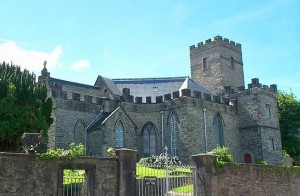 Sligo is situated in the North West of Ireland on the coast in the midst of a beautiful area.
It is our endeavour to present the church as a vibrant body in the Sligo community, seeking  to extend the family of God through social concerns and Christian teaching.
**********
REMEMBRANCE SERVICES
Saturday 9th November – Remembrance Service at the Cenotaph, Pearse Road at 11.00am
Sunday 10th November – Act of Remembrance during 10.30am Service in St John's Cathedral
**********
BRAM STOKER
An Exhibition Board outlining the history of the connection between St John's and Bram Stoker's mother, Charlotte Thornley,
and her family, was unveiled in the Cathedral by Dacre Stoker, the great-grand nephew of Bram Stoker, on 23rd October.  Please come in to see this.
**********
MOTHERS' UNION
Thursday 7th November, 8pm in the Parish Room – Christmas Flower Arranging by Dolores and Marion
PLEASE BRING YOUR TEAM HOPE SHOE BOXES TO THIS MEETING
Saturday 30th November, 3.00pm to 4.30pm – Prayer Vigil in support of 16 Days of Activism against Gender Violence -
in The Martin Memorial Hall, Killeshandra, Co Cavan
**********
SELECT VESTRY MEETINGS
Wednesday 6th November – St Anne's SV Meeting in the church at 8.30pm
Monday 11th November – St John's SV Meeting in the Parish Room at 8.00pm
**********
OUR CLUBS
EVERY Tuesday – Bowls Club meeting in the Hall at 8.00pm – all welcome.
Also EVERY Tuesday – Whist Club meets in the Parish Room (Magee House) at 8.00pm – all welcome.
++++++
November Services are detailed on each church's page.