First Meditation for Lent 2020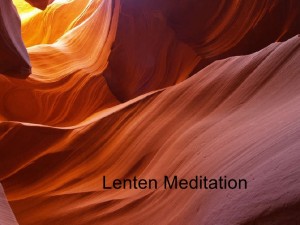 St John's Cathedral Group – First Mid-week Meditation for Lent 2020
With Jesus on the Mount of Transfiguration
It is a very unusual time for us as a people in Ireland and around the world as we face the restrictions put upon us by the Covid19 coronavirus. We cannot go to Church or meet together in homes, so we do the next best thing and join with others in the Parish to do this simple meditation in the comfort of our own homes and maybe with others who share our home with us. Ann & Mike Wooderson chose this meditation which they have found useful in their own lives and hope that as you reflect on it you may be blest too!
Reading from Luke 9: 28-36
The Transfiguration
28 About eight days after Jesus said this, he took Peter, John and James with him and went up onto a mountain to pray. 29 As he was praying, the appearance of his face changed, and his clothes became as bright as a flash of lightning. 30 Two men, Moses and Elijah, appeared in glorious splendour, talking with Jesus. 31 They spoke about his departure,[a] which he was about to bring to fulfilment at Jerusalem. 32 Peter and his companions were very sleepy, but when they became fully awake, they saw his glory and the two men standing with him. 33 As the men were leaving Jesus, Peter said to him, "Master, it is good for us to be here. Let us put up three shelters—one for you, one for Moses and one for Elijah." (He did not know what he was saying.)
34 While he was speaking, a cloud appeared and covered them, and they were afraid as they entered the cloud. 35 A voice came from the cloud, saying, "This is my Son, whom I have chosen; listen to him." 36 When the voice had spoken, they found that Jesus was alone. The disciples kept this to themselves and did not tell anyone at that time what they had seen.
Reflection by Joyce Huggett
Originally, the people who observed Lent were new converts to Christianity. Since they were all to be baptised together on Easter Day, Lent formed the final part of their baptism preparation. The Lenten readings included the story of the Transfiguration to show these young Christians that just as the likeness of his Father shone through the humanity of Jesus and transformed him, because the Holy Spirit lives in us, we can also be changed. Just as on the Mount of Transfiguration, and at other times, the divinity of Jesus shone through his humanity, so God's glory beams through the faces and actions of those who are being transformed into his likeness. The late Malcolm Muggeridge (https://www.youtube.com/watch?v=LyWK-PxZ5GA)  was astonished by this when working with Mother Teresa:
"When I first set eyes on her I at once realised that I was in the presence of someone of unique quality. This was not due to her appearance, which was homely and unassuming, so words like "charm" or "charisma" did not apply. Nor to her shrewdness and quick understanding. There is a phrase in one of the Psalms that always, for me, evokes her presence: 'the beauty of holiness' – that special beauty, amounting to a kind of pervasive luminosity generated by a life dedicated wholly to loving God and his creation".
Others speaking of Mother Teresa have said that when she received Holy Communion, she glowed, and that the same glory was glimpsed when she held in her arms one of God's dying people, from the Gutters of Calcutta.
Mother Teresa would have been the first to insist that if God's glory shone through her it could shine through all who contemplate Christ. The transfigured Christ whose light blazed in her is the same Christ who lights the dark corners of our lives. The more our lives revolve, not around self, but around Jesus, the Light of the World, the more others will sense his presence, even in us.
Joyce Huggett
Questions to ponder
Are there any occasions when you personally have had an experience of God's glory?
St Paul writes in 2 Corinthians 3:18 –
18 And we all, who with unveiled faces contemplate[a] the Lord's glory, are being transformed into his image with ever-increasing glory, which comes from the Lord, who is the Spirit.
Are there any occasions when you personally have had an experience of God's glory shining in other people? What effect did that have on you
Prayers
Dear Jesus, help me to spread Your fragrance everywhere I go.
Flood my soul with Your spirit and life.
Penetrate and possess my whole being so utterly,
That my life may only be a radiance of Yours.
Shine through me, and be so in me
That every soul I come in contact with
May feel Your presence in my soul.
Let them look up and see no longer me, but only Jesus!
Stay with me and then I shall begin to shine as You shine,
So to shine as to be a light to others;
The light, O Jesus will be all from You; none of it will be mine;
It will be you, shining on others through me.
Let me thus praise You the way You love best, by shining on those around me.
Let me preach You without preaching, not by words but by my example,
By the catching force of the sympathetic influence of what I do,
The evident fullness of the love my heart bears to You. Amen.
(Mother Teresa's adaptation of a prayer by Cardinal Newman)
The Lord's Prayer – Our Father who art in heaven…
Common Collect
Lord almighty, come and scatter the darkness of fear and oppression that we feel in the present world situation by the constant light your presence brings. Help us to trust in you, Lord Jesus for you are the light of the world. Amen
 May the almighty and merciful God, the Father, the son and the Holy Spirit bless us and keep us and those we love tonight and always. Amen
 If you click on this link https://www.youtube.com/watch?v=gi1Ubff5XoY  it will bring you to the music for our closing hymn.
Lord, the light of your love is shining
In the midst of the darkness, shining
Jesus, Light of the world, shine upon us
Set us free by the truth you now bring us
Shine on me, shine on me
Refrain
Shine, Jesus, shine
Fill this land with the Father's glory
Blaze, Spirit, Blaze
Set our hearts on fire
Flow, river, flow
Flood the nations with grace and mercy
Send forth your word
Lord, and let there be light
Lord, I come to your awesome presence
From the shadows into your radiance
By the blood I may enter your brightness
Search me, try me, consume all my darkness
Shine on me, shine on me
Refrain
As we gaze on your kingly brightness
So our faces display your likeness
Ever changing from glory to glory
Mirrored here may our lives tell your story
Shine on me, shine on me 
Refrain 
Please join us for our meditation again next Wednesday night and throughout Holy Week
May God bless us all and keep us safe
Dean Arfon Williams