Second Meditation for Lent 2020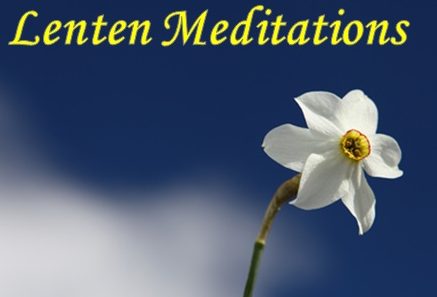 Reading John 6: 25-35
Jesus the Bread of Life
25 When they found him on the other side of the lake, they asked him, "Rabbi, when did you get here?"
26 Jesus answered, "Very truly I tell you, you are looking for me, not because you saw the signs I performed but because you ate the loaves and had your fill. 27 Do not work for food that spoils, but for food that endures to eternal life, which the Son of Man will give you. For on him God the Father has placed his seal of approval."
28 Then they asked him, "What must we do to do the works God requires?"
29 Jesus answered, "The work of God is this: to believe in the one he has sent."
30 So they asked him, "What sign then will you give that we may see it and believe you? What will you do? 31 Our ancestors ate the manna in the wilderness; as it is written: 'He gave them bread from heaven to eat.'[a]"
32 Jesus said to them, "Very truly I tell you, it is not Moses who has given you the bread from heaven, but it is my Father who gives you the true bread from heaven. 33 For the bread of God is the bread that comes down from heaven and gives life to the world."
34 "Sir," they said, "always give us this bread."
35 Then Jesus declared, "I am the bread of life. Whoever comes to me will never go hungry, and whoever believes in me will never be thirsty
Song – In Christ alone (Click on this link to follow the song) https://www.youtube.com/watch?v=ENtL_li4GbE
Meditation
As we are all confined to our homes as asked to do so during this present threat of Covid 19 (Coronavirus), apart from the daily exercise and the weekly shopping, we may have discovered things to do that we haven't done in years! One delight for me is discovering the delight of baking my own bread once again.
Nothing is as evocative or mouth-watering as newly baked wheaten bread or fruit soda bread; it also brings back memories of childhood when mothers and grandmothers, in my case, used to bake the daily bread at home. Bread in whatever form we enjoy it is a staple in our daily food intake, and most families would eat it at some point during each day. Jesus in teaching his disciples the Lord's prayer encourages us to ask, "Give us today our daily bread".
In the above reading from John 6 Jesus is speaking to the people that had been looking for him following the miracle of feeding the five thousand (John 6: 1-14). Jesus had fled from them because he knew they wanted to make him their king, and that for all the wrong reasons and not according to the Lord's plan for salvation. In verse 26 – 29 above, Jesus encourages the people to strive for eternal things that the miracle pointed to and Jesus was wanting to give, and not the temporal things that can spoil and rot away.
In verses 30-31 the people remind Jesus of the other miracle of bread (manna) appearing on the desert floor and water from a rock during the Israelites flight from Egypt (See Exodus 16 & 17).
In verses 32-33 Jesus reminds them in return that it was God's provision in the desert that saved his people from hunger and thirst and his provision too brought them freedom in the 'Land of Promise'. Salvation always comes through God's providence.
Verses 34-35 the people want this bread! Jesus declares "I am the bread of life". Jesus's life, death and resurrection are the new means by which God is bringing his people back to freedom from sin and death forever.
In our quest for freedom from disease, meaning in a world that has been changed dramatically in such a short space of time and hope for all our future we must return to our staple for hope and salvation – Jesus – The 'Bread of Life', Jesus the 'fountain of eternal life', who brings an eternal dimension to what we see now as our most pressing global catastrophe. Jesus is our sustenance without which we will surely perish. Jesus' words, his identity, "the bread of life" is the holy provision of God that nourishes us, never runs out, and blesses us.
Questions to ponder
When have you felt hungry, physically, or spiritually? What satisfied your hunger?
Do you think of Jesus daily feeding and sustaining you?
What is life-giving for you? How do you experience Jesus in those life-giving moments?
Prayers
Jesus, bread of life, you sustain us through things even when we fail to feel your presence. You nourish us when we fear we cannot keep going. You feed us when we are hungry for purpose, hope and healing. You assure us that when we believe in you, we will never hunger or thirst again. You promise us that you will never abandon us. Therefore, we ask: 'Jesus give us yourself and we will be satisfied.' Amen.
The Lord's Prayer – Our Father who art in heaven…
Common collect
Lord almighty, come and scatter the darkness of fear and oppression that we feel in the present world situation by the constant light your presence brings. Help us to trust in you, Lord Jesus for you are the light of the world. Amen
May the almighty and merciful God, the Father, the son and the Holy Spirit bless us and keep us and those we love tonight and always. Amen
Hymn 647 Guide me o Thou great Jehovah… (Click on this link to follow the song) https://www.youtube.com/watch?v=wT4n1hGjDDg
Dean Arfon Williams