Messy Church!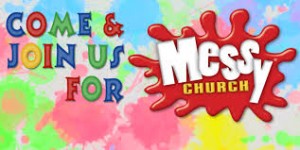 MESSY CHURCH will resume again in October – watch this space for dates and details!
MESSY CHURCH is an opportunity for all ages to get together for worship, crafts, games and food. Everyone is welcome to join us in St John's Hall, John Street, Sligo from 4pm to 6pm on the following dates in the coming months.
If you are coming along, (or want more information), just text your name and number you are bringing to 086 8181 110 on the Saturday beforehand to allow us to prepare enough food for all!
Messy Church Dates for your Diary – Spring/Summer 2017
26th February – Theme 'Space for God' (Lenten Time)
26th March – Theme 'Importance of being part of God's Family" (Mothering Sunday)
No Messy Church in April (Spring to Life will be on from Sunday 9th April to Sunday 16th April)
14th May – Theme "Worldy Love"
11th June – BBQ in Hazelwood (Hunt the Old Testament Character in the Bible)