The Yeats Connection
William Butler Yeats (1865-1939)
Many people in the world of literature consider W. B. Yeats to be the greatest poet of the twentieth century, and the award of the Nobel Prize for Literature in 1923 certainly gained him universal recognition.
Although born in Dublin, he spent much of his childhood in Sligo and local scenes/characters feature prominently in his works.
In 1939 he died in Roquebrune, France, and was re-interred 9 years later in Drumcliffe churchyard (5km north of Sligo town), in accordance with what he had written in one of his later poems "Under Ben Bulben".
Jack Butler Yeats (1871-1957)
Jack B. Yeats was one of the most important figures in the visual art of Ireland during the twentieth century, with his paintings depicting vivid scenes of daily Irish life and Celtic mythology.
Like his poet brother, he spent much of his early life in Sligo, where he developed his imaginative interest in Irish rural life.
He passed away in Dublin in 1957.
The Yeats Family
John Butler Yeats and Susan Mary Pollexfen, the parents of the poet William Butler Yeats, and the painter Jack Butler Yeats, were married in St. John's Church in September 1863.
Along the north side of the Church there is a bronze tablet erected by the Yeats siblings in memory of their mother, Susan Mary.
The churchyard contains the grave of W. B. Yeats's and J. B. Yeats's infant brother, Robert Corbet Yeats, who died (aged three) in March 1873.
The Pollexfen Family
William and ElizabethPollexfen, the maternal grandparents of the famous Yeats brothers, were eminent traders and merchants and also loyal members of the congregation of St. John's Church.
Their grave is located close to the west door of the Church. Additionally, there is a stained glass window to their memory in the Church's north wall.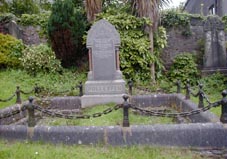 SC 2010