Rosses Point Church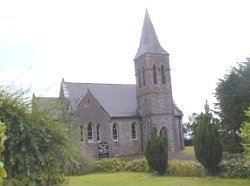 Before the construction of a Church of Ireland church in Rosses Point services were conducted on Sunday afternoon, during the tourist season, by the rector or curate of Drumcliff in a room made available by a local resident.
Also,at Elsinore (now in a ruinous condition adjacent to the harbour), when it was the property of the Cooper family of Markree Castle, there were occasional Sunday services conducted by clergy visiting the Area.
In the mid-nineteenth century, with the increasing importance of Rosses Point as a holiday destination for Protestant families, it was agreed that a Church of Ireland church should be constructed locally. The first stone was laid on 14th August 1854, and work commenced with architect William Dean Butler and builder Henry Caldwell.
This finely crafted church, built with limestone, is a very good example of the nineteenth century Gothic revival style.
The building opened in 1858, initially with the clergy of Drumcliffe conducting a service on Sunday afternoon and holding a school for the children of residents in the district.
After many years of autonomy, Rosses Point church united with Drumcliif parish in 1932, and later joined the St John's Cathedral, Sligo, group of parishes in 1961.
SC 2013