Mothers' Union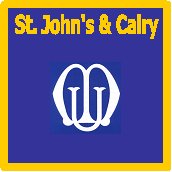 Sligo Cathedral Group of Churches and Calry Parish Church have a joint Mothers' Union Branch -"St. John's Calry MU" .
The Mothers' Union is a worldwide Anglican-led organisation whose purpose is to be specifically concerned with all that
strengthens and preserves marriage and Christian family life.
Our Programme for 2019/2020
 2019 "Listen, Observe, Act – in step with God"
Wednesday 4th September @ 8.00pm
Opening Service of Holy Communion in
St John's Cathedral, followed by Tea and Opening Meeting in the Parish Room.
Supper: Marlet and Dorothy
 Thursday 3rd October @ 7.30pm
"Gathered in Mission" in Riverstown.
Invitation received from Riverstown MU,
Please let Trudi know by Sunday 29th September if you will be attending or not.
Thursday 6th November @ 8.00pm
A Christmas Surprise with D & M Blathanna
in the Parish Room.
Riverstown and Manorhamilton have been invited.
PLEASE bring your Team Hope Shoeboxes!
 Supper: Esther, Elizabeth, Iris, Liz Wray & Committee
Saturday 7th December @ 3.00pm
Christmas Carols
in Summerville Nursing Home, Strandhill.
Followed by a cuppa in the Deanery!
2020: "Building Hope & Confidence" 
Saturday 11th January @ 1.00pm
New Year Lunch with entertainment!
Sligo Park Hotel. This Lunch will be open to all.
Wednesday 5th February @ 8.00pm
Beetle Drive in the Parish Room
Invitation will be sent to Drumcliff and Ballisodare Union
Supper: Violet, Kathleen N, Liz Greer, Irene & Committee
Shrove Tuesday 25th Feb-10.30am to 12.30pm
Pancake Breakfast in the Deanery, with celebrity chef Dean Arfon!
Funds raised will be divided between MU Overseas, & St John's, Calry & St Anne's Sunday Schools.
Please bring your friends. Help will be needed to serve pancakes and coffee etc.
Thursday 12th March at 8.00pm
Pamper Night in the Parish Room!
Come prepared to enjoy some relaxation!
Supper will be Mocktails and 'Bits'!! (Trudi)
Thursday 30th April @ 8.00pm
Service of Holy Communion in Calry Church
followed by tea in the Catacombs.
Please bring your Overseas Donations.
Supper: Hilda, Anne F, Margaret, Dolores
June/July (Date to be agreed)
Annual Outing
Other Important dates:
18th and 19th October 2019
Words of Wisdom Women's Weekend
Armagh City Hotel
Speakers: Bishop Ken and Helen Clarke
Saturday 30th November 2019
Prayer Vigil
in The Martin Memorial Hall, Killeshandra
from 3.00pm to 4.30pm
Please support Marlet, our Secretary,
by attending, as she is the chief
organiser of this event.
Friday 6th March 2020
World Day of Prayer
Church to be confirmed
May 2020
Festival Service
Date and place TBC.
Presentation of Overseas chq.
Please bring a cake per car.
June 2020
Indoor Members Afternoon
Galilee House, 3pm, date to be
confirmed.
Please bring tray bakes.
Commitment to prayer is the essential heartbeat of the Mothers' Union. Members worldwide are united in a daily 24 hour Wave of Prayer. The Sligo branch is part of a Diocesan Prayer Circle which is organised by the Faith and Policy co-ordinator and involves members from every Branch who will pray for anyone suffering illness or who has a particular problem.  If anyone would like to have their name added to the Prayer Circle, please contact branch leader.
The Mother's Union Prayer
Loving Lord, we thank you for your love so freely given to us all. We pray for families around the world. Bless the work of the Mothers' Union as we seek to share your love through the encouragement, strengthening and support of marriage and family life.
Empowered by your spirit, may we be united in prayer and worship, and in love and service reach out as your hands across the world. In Jesus' name.
Amen.
Click the logo below to visit the DiocesanWebsite of Kilmore, Elphin and Ardagh Mothers' Union