Sligo Cathedral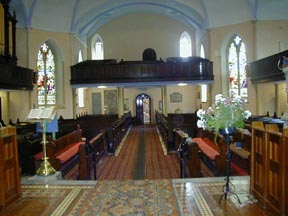 St John's Cathedral Services for May 2015
Sunday 3rd May (Easter 5) – 10.30 am Holy Communion  (Readings 1 John 4: 7-21, Psalm 22: 25-31, John 15: 1-8)
Sunday 10th May (Easter 6) – 11 am CONFIRMATION in the Cathedral (This is the only service in the Parish on the 10th May)
Sunday 17th May  (Easter 7) – 10.30 am Holy Communion (Readings 1 John 5: 9-13, Psalm 1, John 17: 6-19)
Sunday 24th May (Pentecost Sunday) – 10 am Morning Worship in the Cathedral (Rom 8: 22-27, Psalm 104: 26-36, Acts 2: 1-21)
This is the only service in the Parish on the 24th May due to the Diocesan Service in the Slieve Russell Hotel, Ballyconnell at 3.00 pm.  Please come along and join in this important service for the Diocese.
Sunday 31st May (Trinity Sunday) 10.30 am Morning Worship (Readings Rom 8: 12-17, Psalm 29, John 3: 1-17)
The parishoners in St John's are a committed and dedicated group of people who especially welcome visitors.  There is a Sunday School each week which takes place from midway through the service.